Best Italian Winter Destinations
by Jessica Spiegel
Italy, like many European countries, is most often thought of as a fair-weather destination - and with good reason. Those glorious Tuscan hillsides aren't sunny and green year-round, y'know. Italy, however, is open for business year-round - and when
cheap air tickets
are easier to find in winter than in summer, an off-season visit is even more appealing. Here are three cities worth considering for a
winter trip to Italy
- one for people in search of an Italian ski vacation, one for people who want a popular destination at a bargain price, and one for people who want to steer clear of winter weather completely.
Buon viaggio!
Ski Hub in the Italian Alps: Turin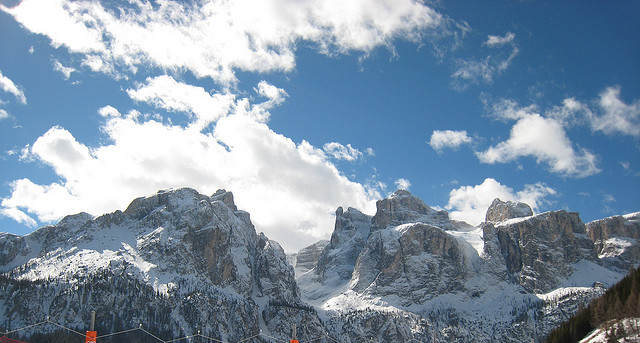 (Image via)
It shouldn't come as a surprise that the northwestern city of Turin makes an excellent base from which to explore some of Italy's best ski areas - it was, after all, the setting for the 2006 Winter Olympics. The Alps are just over
there
, on the horizon, and offer some pretty fabulous options for skiing and snowboarding. The collection of ski resorts known as Via Lattea (near the French border) have runs for different skill levels, including ski schools for beginners. More advanced skiers may particularly enjoy the night skiing at Sestriere - the Giovanni Alberto Agnelli run is open until 10pm. These slopes were used during the 2006 Olympics, and at roughly one hour from Turin this area is an easy day trip. Not only that, there's a train station at Oulx that you can reach from Turin (and other major cities), so you don't even need to rent a car if you prefer not to. Head back to Turin for a little après-ski relaxation and you'll find a city that's cosmopolitan but not too big - it's easy to explore on foot, and although it doesn't boast world-famous art collections like Florence or Rome it does have one of the Catholic church's most venerated relics (the Shroud of Turin), a top-notch Egyptian museum, and a car museum. But really, after a day on the slopes, there's probably no better way to enjoy Turin than from a table at the Caffè al Bicerin, nursing the thick coffee-and-chocolate concoction named after the cafe itself.
Easier on the Budget in the Off-Season: Venice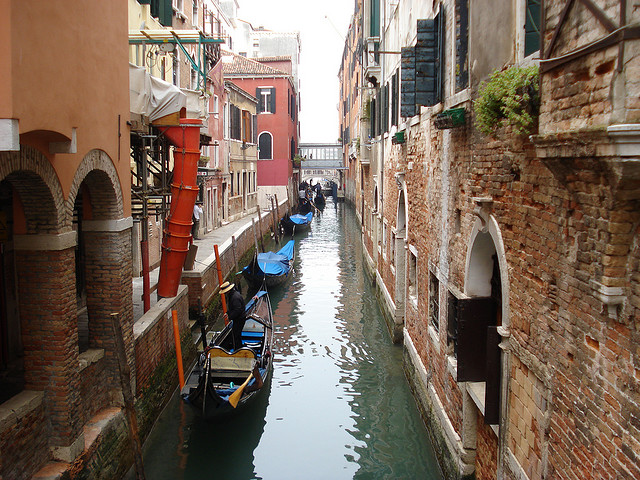 (image via)
Venice is notorious as an extremely expensive city to visit, which means that many budget travelers skip it or limit themselves to a day trip from a home base on the mainland. If you can go during certain parts of the winter, however, your budget will go much further - and you'll have fewer crowds to fight through, as well. Snow in Venice is something of a rarity, but make no mistake - the islands in the lagoon get cold in winter. It's that damp, bone-chilling, cut-right-through-you cold, too, so don't go without a warm coat. Having said that, there's no sweeter reward after wandering aimlessly in a chilly and hauntingly foggy Venice than to slip into a bar and order a
caffè corretto
- that's an espresso with a shot of grappa to you and me - or follow the locals into a
cicchetti
bar, where they eat bite-sized servings of regional specialties accompanied by a small glass of local wine. Visiting Venice during the winter has its drawbacks - a gondola ride through the canals is a pretty cold proposition in January, and some of the hostels close for a few months - but budget hotels offer rooms at their lowest rates all year. This means you can actually stay for a couple of nights rather than schlepping in and out from the mainland each day. Note that off-season pricing doesn't apply around Christmas and New Year's, and it's important to find out when Carnevale is happening, too - it's sometimes in late February, and that's absolutely high-season, nevermind the weather.
Milder Winter Weather: Palermo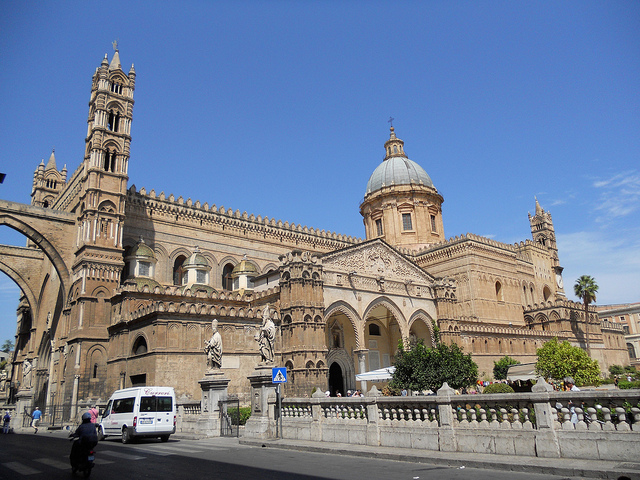 (image via)
Maybe you're not into winter weather at all, and even the idea of a warming coffee-and-chocolate drink isn't appealing enough to make you want to don a down coat. Never fear, Italy has other wintertime destinations that are far more temperate - all you need to do is look south. A city like Naples is certainly milder in winter, although you'll get plenty of rain, but one of the pleasures of a visit to Naples is seeing the nearby Amalfi Coast - and that's not really much fun in the winter. Keep going south, then, until you're forced to get off the mainland and onto the island of Sicily. You won't necessarily find balmy bikini weather during a Sicilian winter, but Palermo's average high temperatures in December-January are right around 60F (15C) and the average rainfall is distinctly less, too. As an added bonus, prices are lower and crowds are fewer - which is, of course, every traveler's dream come true. Settle into the old city in Palermo and wander from beautiful church to beautiful church, enjoying the in-situ art, and check out the palazzo from which the Kings of Sicily once ruled. You can do some holiday shopping in one of Palermo's many outdoor markets, see an opera in the historic theatre, sample cannoli from every pastry shop you pass, and - if you're lucky - see the Christmas lights twinkling over the city's most famous crossroads, the Quattro Canti. Spend more time on the island (and rent a car) to visit your choice of five UNESCO World Heritage Sites, including Agrigento's Valley of the Temples, home to some incredible Greek ruins.
About the Author: Portland-based writer Jessica Spiegel is a serious Italophile - she'll happily take a winter trip to any part of the country, and she has yet to find a season that's too cold for gelato. Jessica works for indie travel experts BootsnAll.